Yellow apatite –a stone that has a bright and stimulating energy, which may help life in so many ways. The properties of this sunny yellow crystal is what make it a wonderful stone in promoting prosperity. The action in both the second and third chakra is an amazing support for assisting in weight loss. The color yellow's energy is what makes the stone essential being a manifestation crystal. It may improve the manifestation and the action it possesses activates the solar plexus chakra –also called the seat of the will. The vibration might also assist you in strengthening the willpower, and might also help you in becoming more confident and assertive, and the energy it has might support you in discovering what you really want in your life. In this article, we will discuss some more essential facts about yellow apatite including its benefits. Read on to learn more!
Meanings and Properties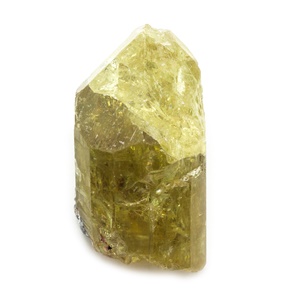 The meaning of the name of this stone actually comes from the Greek term apatao, which means to deceive. The main reason for this name is that –it's typically mistaken for some other stones. The yellow apatite possesses all the generic properties of apatite. Aside from these properties, it possesses some amazing metaphysical properties of its own. The yellow apatite is well known to be amongst the purest crystals of the yellow ray.
The yellow ray is actually the manifestation vibration, mental clarity, and strength of will. The nature of this stone is male as it is a solar stone. The stone may help in enhancing the masculine energy in both men and women. This helps its wearer in becoming confident and assertive. It also supports people in learning new things, as it facilitates opening up and learning info from the environment. This helps in the manifestation of desires and assists those who do not known what they really want, in order to understand their real desires and needs.
The yellow apatite has been found in so many locations all over the world, including United States, Mexico, Canada, Norway, Russia, and Brazil.
Apatite's yellow variety is frequently sold as green apatite or golden apatite. However, the green apatite is basically dissimilar metaphysically.  Even though this depends on the precise color of the stone, a lot of pieces of the green apatite stone, which are sold are bright yellow, and the crystals might be prismatic and gemmy or in massive form.
We will discuss some amazing yellow apatite benefits later in this article, so keep on reading to learn more!
Reasons to Use It
The yellow apatite actually embody the metaphysical properties of the yellow color. They are amongst of the pure, authentic crystals of the yellow ray, and they might embody in them all the strength of this highly energetic and amazing yellow vibration. This is also known as the leading stones of the yellow ray, and it is so easy to know why –when you get to see the astounding yellow color of this stone, you'll get stunned by it!
This stone's yellow ray might carry in it a powerful vibration, which may enhance confidence, the strength of will and even the mental clarity. This may also work all throughout the navel or sacral chakra, where you get to digest new things, like ideas, which are being introduced in the body.
This stone is also a great support in increasing an abundance, and may carry a strong vibration for manifestation. This may assist you in becoming even freer and supports you in breaking through the limitations you set yourself. The crystals also encourage good vibrations in life, since they possess a positive and heartening energy, which embodies you with the feelings of loving support and comfort.
Let us now move over to the yellow apatite valuable benefits!
The 3 Best Crystals For Healing Each Of Your Chakras
Get A Free Downloadable Checklist of The 3 Best Crystals For Healing Each Of Your Chakras.
Give Me My Free List
Yellow Apatite Essential Benefits
The yellow apatite may help you in different ways, including:
It makes it an auspicious aide-de-camp when you're beginning to new business and need some development in ideas in making it viable financially.
This is an amazing stone that boosts the learning abilities, and this particularly applies to having the knowledge in manifesting.
It's a beneficial stone that will heighten the individual appeal or attraction, and it might aid you in developing enthused ideas.
The yellow apatite stone is beneficial to boost the money manifestation or some other prosperity forms, which you might feel are appropriate in life.
Just like all the other golden or yellow stones, yellow apatite stone is a strong kind of manifestation stone.
It also has a solar and male vibration. These vibration may work most efficiently in the sacral and solar plexus chakras. When you start to assimilate the vibration, it might possess a strong effect on the willpower. The greatest way in doing this is keeping a yellow stone, like yellow apatite on you for so long, every single day.
Felicia Eisnnicher
I am the Lead Author and Editor at Gemstagram. I am responsible for creating and editing content about the power of gems and crystals. I also teach about Self-knowing, self-understanding and personal empowerment through numerology. My mission is to help people understand the power of gems and crystals, and how they can use that power to improve their lives. I believe that by understanding ourselves better, we can become more empowered individuals who are able to create our own destiny.
Visit my profile page for more information about me: Felicia Eisnnicher Author Profile
The 3 Best Crystals For Healing Each Of Your Chakras
Get A Free Downloadable Checklist of The 3 Best Crystals For Healing Each Of Your Chakras.
Give Me My Free List