Brandberg amethyst is a versatile stone that brings a lot of energies to bear. It has a soothing and calming effect that is beneficial for the nervous system. Other than that, there are more facts about brandberg amethyst that you need to know. Below you will some of the meanings, properties, and even the benefits of this stone.
Meanings and Properties of Brandberg Amethyst
Brandberg Amethyst is a unique and beautiful variety of quartz stone that can be only found in Africa, specifically in Namibia. This stone, on the other hand, is a magical blend of Clear and Smoky Quartz and Amethyst.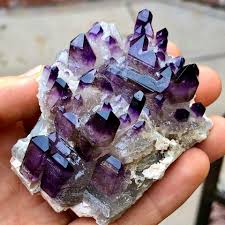 Further, the stone is infused with notable enhydros, phantoms, as well as other rare inclusions and formations. This actually adds to the divine energy and purity brandberg amethyst emits.
Also, the high vibrational frequency of this stone will return the essential energetic patterns to their maximum functioning.
Brandberg amethyst has meanings and properties that will bring a better outlook in life, a new relationship, and emotional and physical healing.
Reasons Why You Should Use Brandberg Amethyst
The stone can stimulate awakening is someone else's spiritual and intuitive abilities. In fact, this is also known to keep one's energies, intention, and thoughts on the highest level. Another reason to use the Brandberg amethyst is that it will assist in spiritual evolution.
In addition to that, it aids in restoring health, balance, and vitality to your body. It even helps in speedy recovery.
The stone can be utilized to block negative environmental energies and geopathic stress getting rid of the toxic effects of radioactivity and radiation. It is also a great stone to have when clearing buildings, houses, or any other places that feels hostile.
Carrying or wearing a piece of brandberg amethyst will improve any effort and hard work that you are going to make to transform the situation of your life. Nevertheless, aside from the abovementioned, there are facts about brandberg amethyst that may surprise you so read on.
The 3 Best Crystals For Healing Each Of Your Chakras
Get A Free Downloadable Checklist of The 3 Best Crystals For Healing Each Of Your Chakras.
Give Me My Free List
Brandberg Amethyst Benefits That You Need to Know
The following are some of the benefits that you may reap when you have a piece of brandberg amethyst.
For Health and Healing
This stone is known as a master healer that may forcefully retune essential vibrational patterns. It will also help in aligning all the systems in your body for maximum functioning.
Brandberg is extremely useful for recovery from an immune deficiency, chronic fatigue, severe illness or depletion, and in healing disorders related to the digestive, skeleton, and nervous systems.
The stone is also believed to alleviate dental pains and heal hearing problems. Further, it might be of great assistance in instances of concussion and in helpful in healing stress disorders.
For Wealth
When you work with brandberg amethyst's energies you will be able to obtain a lot of insights that will assist you in your following steps.
Not only that, you will receive guidance on which direction you should take, most especially when it comes to investments and finances.
With brandberg amethyst, you'll be able to transform your weaknesses to strengths. What's more, you will be able to discharge all you're anxieties and fears concerning money.
For Relationship and Love
The moment you have received the calming and soothing energies of brandberg amethyst all your bad feelings and negative thoughts will be released gently allowing you to make a new relationship.
With the aid of this stone, you can resolve any problem that you might not have dealing with sensibly.
Final Thoughts
Brandberg amethyst is a very special stone. When you have a piece of it, you will be able to experience lightness making it a great tool during meditation. Its inclusions and phantom also aid deep soul healing.
Do you know other facts about brandberg amethyst? If so, then don't hesitate to share it with other people.
Felicia Eisnnicher
I am the Lead Author and Editor at Gemstagram. I am responsible for creating and editing content about the power of gems and crystals. I also teach about Self-knowing, self-understanding and personal empowerment through numerology. My mission is to help people understand the power of gems and crystals, and how they can use that power to improve their lives. I believe that by understanding ourselves better, we can become more empowered individuals who are able to create our own destiny.
Visit my profile page for more information about me: Felicia Eisnnicher Author Profile
The 3 Best Crystals For Healing Each Of Your Chakras
Get A Free Downloadable Checklist of The 3 Best Crystals For Healing Each Of Your Chakras.
Give Me My Free List