Hematoid Quartz is one of the most beneficial crystals used in meditation and healing, thanks to its unique grounding capabilities. This crystal also eliminates negative and bad energies and transform them into positive ones. Read on to know more about Hematoid quartz benefits along with its meanings and properties.
Hematoid Quartz: Meanings and Properties
Hematoid Quartz is actually a transformational crystal which combines the strengthening properties of Quartz with iron's stability and balance in the custom of Hematite.
This crystal, on the other hand, get rids of negativity. And aforementioned, Hematoid quartz transmute and transform this negativity into pure and positive light of love.
The mish-mash of Hematite and Quarts balances the spirit, body, as well as mind. As a matter of fact, it brings understanding and clarity to your emotions helping you to perceive the difference between conscious responses and unconscious reactions.
Nevertheless, the Hematite inclusions show small red-brown or black clouds or stars in the Quartz point's closure ends. What's more, Hematoid Quartz is sometimes known as Ferruginous Quarts, Specularite Quartz, and Fire Quartz.
Why You Should Use Hematoid Quartz?
Undeniably, Hematoid quartz is a great grounding crystal. It'll quiet and at the same time calm your mind providing you enough time to process things properly.
Hematoid Quartz, on the other hand, dissolves negativities and impurities allowing you to enjoy more balanced and positive energies. This crystal inspires original as well as creative thinking. What's more, it boosts concentration and focus.
Other than that, this crystal can also offer you simple yet very effective solutions to your problems. If you are dealing with technical matters or complex subjects often, Hematoid quarts is the best crystal for you.
Moreover, Hematoid quartz improves willpower and more importantly, it boosts self-confidence, self-esteem, and self-worth which is similar to the official birthstone of November.
Even so, this crystal will make you realize that you can learn from your previous mistakes and you shouldn't be crippled and defined by them.
When combined with Zebra stone, Hematoid Quartz will remove your hysteria and panic and fear and it'll replace it with calmness, security, serenity, and peace.
With regards to balancing and purifying chakras, this crystal can be a great help. In fact, Hematoid Quartz may support you in incorporating your shadow character with your light character.
The 3 Best Crystals For Healing Each Of Your Chakras
Get A Free Downloadable Checklist of The 3 Best Crystals For Healing Each Of Your Chakras.
Give Me My Free List
Hematoid Quartz Benefits: What You Need to Know?
Are you wondering what this crystal has to offer? If so, then check out the several Hematoid quartz benefits below.
For Health and Healing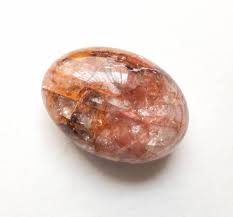 In terms of healing, Hematoid quartz is indeed one of the most valuable crystals out there owing to its stabilizing and unique grounding capabilities.
This crystal actually carries the quartz's strong frequencies and Hematite's stabilizing energies. It has also an organizing and harmonizing effect in your body.
In fact, it is utilized for general healing most especially when paired with Fools Gold.
Hematoid Quartz also speeds up the healing procedure of the body. What's more, it is helpful in treating blood disorders like anemia. Nevertheless, it is also beneficial in alleviating leg cramps.
This crystal can be also used in treating memory loss, anxiety attacks, and stress. It is also used to fortify the functions of kidney and liver.
For Wealth
In point of fact, Hematoid may focus and clear your mind allowing you to finish your task and reach your goals. This crystal will also enhance your critical thinking and memory.
On the other hand, Hematoid can help you in developing your reasonable thought process. What's more, it'll support you in attaining your highest abilities.
This crystal, however, promotes transparency of thought and it serves as a mind cleanser which makes your emotions calm.
In addition, it eliminates traces of stress for you to concentrate on the goals that you want to accomplish.
Nonetheless, Hematoid quartz attracts all types of wealthy energies as well as a reward all your hard work with good fortune, and of course, good luck.
For Relationship and Love
This crystal works to draw abandoned and unruly energies down to root chakras. Actually, this will offer you a potent grounding and stabilizing action.
On the other hand, Hematoid Quartz balances the polarized opposites of one's emotions as well as thoughts.
When you are committed in a relationship or in love, you should always remember that you may possibly face some challenges sometimes. In fact, real or genuine love is challenging, messy, and complicated.
But no worries, because the crystal's energies will assist you in having healthy stability in order for you to correspond what you are feeling and thinking.
Final Thoughts
Hematoid Quartz is a powerful crystal that will definitely balance your spirit, body, as well as the mind. This crystal will also help you understand your emotions and the variance of unconscious reactions and conscious reactions. Nevertheless, when you're surrounded by turmoil and chaos, this crystal can help you in finding calm and peace.
Felicia Eisnnicher
I am the Lead Author and Editor at Gemstagram. I am responsible for creating and editing content about the power of gems and crystals. I also teach about Self-knowing, self-understanding and personal empowerment through numerology. My mission is to help people understand the power of gems and crystals, and how they can use that power to improve their lives. I believe that by understanding ourselves better, we can become more empowered individuals who are able to create our own destiny.
Visit my profile page for more information about me: Felicia Eisnnicher Author Profile
The 3 Best Crystals For Healing Each Of Your Chakras
Get A Free Downloadable Checklist of The 3 Best Crystals For Healing Each Of Your Chakras.
Give Me My Free List