Have you seen unakite before? Unakite is a gemstone, which encourages the visionary knacks by opening the psychic vision. It also works through your third eye chakra, as well as assists you in visualizing the things that you aspire in life. If you're wondering how to sleep better, this is a healing stone, which may assist in sleeping better, and may also help in relieving stress. It also has an admirable balancing act for the emotions, providing the emotions in line with the spiritual aspects. In this article, we will discuss some more facts about unakite, including its benefits. Read on to learn more!
What are the Meanings and Properties of Unakite?
Unakite –sometimes it is known as the unakite jasper. It is a form of granite, which includes pieces of green epidote, quartz crystals, and pink orthoclase feldspar.
Furthermore, it also possesses the unique, pink appearance and mottled green, and when it's polished, it has an attractive multi-colored appearance, which makes for outstanding jewelry.
The unakite was discovered first in the Unakas Mountains, which is actually a part of USA's Appalachian Mountains, where the stone gets its name from.
The unakite appears to have been caught up in the glacial drifts during the Ice Age and has already been found throughout North America, as well as in South Africa, China, and Brazil, even though never in the numbers present in the Unakas Mountains.
This is a semiprecious kind of stone, and since all of the components of it are somewhat common minerals that are found in the crust of the Earth, unakite stays comparatively cheap and eagerly available, more especially to people who live in the vicinity of the mountains.
If you've got access to it, you should not hesitate in picking up several tumble pieces or stones of unakite jewelry.
The unakite has sensitive and distinctive energy, which blends the growth and nurturing symbolized by the green color with the innocence and love symbolized by the pink color.
What Should You Use Unakite?
The properties of unakite for healing are greatly powerful due to the distinctive combination of green epidote and pink feldspar.
The best way of explaining why is using it as a reminder of the properties, which have been assigned to the colors of the western culture.
The color pink on the crystal is the color of the youth, innocence, as well as of childhood.
In modern society, it is also the color that's given to the baby girls, even though before the early 20th century it's clearly the color of choice for baby boys. Well, still, the fact stays, it is a baby color.
Due to the fact that it is a strong spiritual grounding stone, it might help you in meditating and making contact with a spirit, but keeping grounded while you do so.
If you want to use this stone for grounding, the darker the pink of the stone, the better, and it is possible for you to get them in different shades of color, so you need to keep an eye on it.
Further, if you have trouble sleeping and want to know how to have better sleep, sleep with a piece of this stone under the pillow or under your bed.
Whatever issues from your past that you want to resolve might be assisted by this particular practice.
The 3 Best Crystals For Healing Each Of Your Chakras
Get A Free Downloadable Checklist of The 3 Best Crystals For Healing Each Of Your Chakras.
Give Me My Free List
Unakite Essential Benefits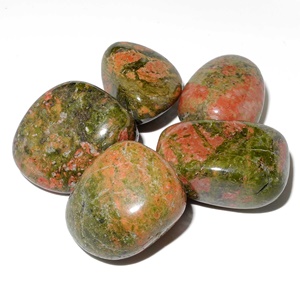 When you're feeling like you already have no options, like you're stuck and do not know what to do, or like you feel like you're being required to sacrifice an important part of you for another person's sake, then this stone may be the stone that will help you get through this trying time. Truly, unakite benefits are real and are all valuable.
In addition, the intrinsic qualities of harmony and balance within this stone massively helps as well in finding the balance, as well as remind us that all that jazz age we may be, there's always a chance of a fresh start and a wide road that's awaiting us.
This stone also helps in having a mindset to stick to the things that you find the most unbearable after a certain time, with a promise that a brand new day is only around the corner.
Unakite is a greatly nurturing stone that is also partly why it's given traditionally to children.
You might imagine it as an accepting parental figure –that listen to your rant and comfort you after.
This is a stone, which may help you in times when you have no idea how you can help yourself –and no matter how old we become, we will all have moments like this.
This is also a great stone that assists in the process of decision making, especially when decisions you need to make you trapped,
Felicia Eisnnicher
I am the Lead Author and Editor at Gemstagram. I am responsible for creating and editing content about the power of gems and crystals. I also teach about Self-knowing, self-understanding and personal empowerment through numerology. My mission is to help people understand the power of gems and crystals, and how they can use that power to improve their lives. I believe that by understanding ourselves better, we can become more empowered individuals who are able to create our own destiny.
Visit my profile page for more information about me: Felicia Eisnnicher Author Profile
The 3 Best Crystals For Healing Each Of Your Chakras
Get A Free Downloadable Checklist of The 3 Best Crystals For Healing Each Of Your Chakras.
Give Me My Free List