Septaria –a stone that possesses a strong shamanic influence, which may help in strengthening the group activities and may stimulate tolerance and patience for other people's opinions. The vibration of these stones may also enhance privacy and they're also favorable stones for the improvement of your own communication abilities. They are also interesting stones, having no two piece precisely the same. The different minerals that compose these stones might mean that their qualities are fairly diverse. Every crystal is actually made up of an amalgamation of different minerals –that makes for an extensive vibration in between the pieces. The metaphysical attributes of the stones may relate to them having diverse and interesting effects in the life of those who decides to utilize them. In this article, we will discuss some more interesting facts about septaria including its benefits. Read on to learn more about these.
Meanings and Properties
The septaria crystals are also called dragonstone, septarian stone, or septeyre. Furthermore, there are 2 different schools of thought regarding the meaning of the word septaria. The first one is believed to have its own origin from the Latin term saeptum, which means partition. This is due to the separations and cracks within the stones. The second one may pertain to the Latin term septum, which means seven, since a lot of stones may seem to appear with seven sections.
The deposits of this rare stone have been found in the United States, Canada, New Zealand, Australia, Madagascar, Spain, and England.
Every piece of this stone is a combination of colors, and each stones may vary considerably. Furthermore, the septaria crystals are every so often beautiful, having the common colors being mix of gray, white, brown and / or yellow.
The stones have formed about 50 million years ago, with liquid filled with mineral matter that's deposited through the fissures, then congealing like concrete in the fissures, which is known as concretions. Within the stones, you'll get to find a combination of different minerals. Commonly, this is yellow calcite –the yellow parts, gray –chalcedony or limestone, white-baryte, or aragonite –brown lines, varying on the certain minerals, which compose that certain stone.
We will discuss some amazing septaria benefits later in this article, so keep on reading to learn more about them!
Reasons to Use It
The metaphysical properties of the septaria are beneficial to use, since they might assist you in so many ways. There are also several reasons on why you might use the stones and several ways, which they might help you, including the following:
These distinctive stones may create symphonic blend of hearth chakra energies, with the third eye and throat chakras.
The stones are beneficial crystals, which you can keep close to you when you're working with the public.
They might help in establishing tolerance and serenity for some other people's opinions, and are lovely enough to have extant at a meditation group.
This may allow you in retaining your anonymity, free from any interference in life and affairs.
The vibration of these stones may send out messages, which may deter anyone who may have a ghoulish regard for you.
It's beneficial in keeping a piece of this in the environment, since this may benefit the area's energy where you place them.
They're essential to keep on you when you have rate your own privacy, since they seem to dispelling other's personal interests within you.
You and everyone else who are found in the general expanse of where they'll benefit from the amplified spiritual fervor made by the stone's reverberation in the activity you're carrying out. At the very same time, they also encompass in them a great grounding energy that may be essential to those in a group circumstance.
Let us now proceed to the septaria benefits!
The 3 Best Crystals For Healing Each Of Your Chakras
Get A Free Downloadable Checklist of The 3 Best Crystals For Healing Each Of Your Chakras.
Give Me My Free List
Septaria Essential Benefits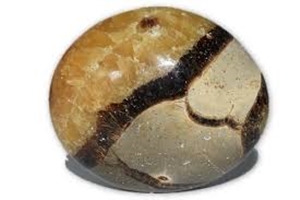 The septaria crystals are powerful healing stones and are certainly beneficial for self-healing. They also have several beneficial healing properties, which are also essential to use when you're a crystal healer. Having the energy in the healing crystal for you to utilize, more especially when you're using them for healing. They might also enable the healers to acquire much deeper insights through their work, since they might assist you in seeing the causes of a condition.
If you're a healer, the septaria crystals are amazing stones to use on these events, where you aren't sure on how to proceed to a treatment. The concretions that are present in the septaria crystals are actually an analogy for their own work in the body, since they're known to be beneficial to assist the healing of the broken bones.
In addition, the vibration of these stones is also thought to be essential in strengthening the muscles, bones, and teeth. It might also be beneficial in keeping a piece of this stone in the auric field every day since they're known to assist the body to be more flexible.
Felicia Eisnnicher
I am the Lead Author and Editor at Gemstagram. I am responsible for creating and editing content about the power of gems and crystals. I also teach about Self-knowing, self-understanding and personal empowerment through numerology. My mission is to help people understand the power of gems and crystals, and how they can use that power to improve their lives. I believe that by understanding ourselves better, we can become more empowered individuals who are able to create our own destiny.
Visit my profile page for more information about me: Felicia Eisnnicher Author Profile
The 3 Best Crystals For Healing Each Of Your Chakras
Get A Free Downloadable Checklist of The 3 Best Crystals For Healing Each Of Your Chakras.
Give Me My Free List