Are you looking for a stone that can revitalize your spirit, body, and mind, bring order to your life, and settle feelings of agitation? If that's the case, then the red garnet is the best stone for you. Keep on reading to know more facts about red garnet.
Table of Contents
Meanings and Properties of Red Garnet
Red garnet is said to be the stone of fidelity. It is a cleansing, energizing, as well as regenerating gemstone that has a wide variety of meanings, properties, and benefits.
When carried as a shielding amulet, red garnet was said to warn of upcoming danger. In fact, this stone also aids with controlling Kundalini energies,
Moreover, the gemstone will promote courage as well as survival over love. It will even cleanse and transmute the chakras of energizing. Red garnet will attract loving assistance for the owner bringing passion and serenity into your life.  
The 3 Best Crystals For Healing Each Of Your Chakras
Get A Free Downloadable Checklist of The 3 Best Crystals For Healing Each Of Your Chakras.
Give Me My Free List
Reasons Why You Should Use Red Garnet
There is a lot of reasons why you should consider using this stone. Read on to know more facts about red garnet.
This has the power to cleanse the energies in the body by removing toxins as well as restoring the body to its re-energized and revitalized condition.
The stone structure of the red garnet will cleanse your spirit, body, and mind. It makes sure that you're functioning at your full potential.
If you want to regain or achieve your balance, having a piece of this stone can be a great help. In fact, this stone will also make you feel protected and safe.
Red garnet will bring all the things that are holding you back, be these negative thought patterns or habits that may negatively affect your physical health.
The stone will also promote higher thinking and self-empowerment and even harness your creative side that can help you in your pursuits.
Red Garnet Benefits That You Need to Know
Listed below are the different red garnet benefits for health and healing, for wealth, and for relationship and love.
For Health and Healing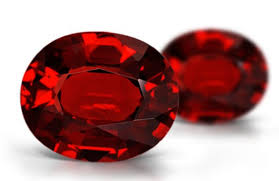 When it comes to problems related to the cardiovascular system, the healing properties of red garnet are proven beneficial. It will regulate the internal rhythms and normalize one's blood pressure.
This stone will also awaken your mind to the need of your body. Furthermore, it will help you manage your everyday health in a more effective way.
Red garnet is also a good stone for detoxification and purification particularly when it comes to the lungs, blood, and heart.
For Wealth
When making decisions that may possibly affect your professional relationships, career, and business, you to be mentally prepared and fortunately, red garnet can help you with that.
The good thing about the stone is that it inspires confidence and strengthens your inspiration and motivation.
Just like green garnet, the energies of red garnet may help in attracting more prosperity as well as abundance into your life. What's more, it will remind you to stay humble and be grateful all the time.
For Relationship and Love
Red garnet had also properties that will improve, heal, and strengthen relationships. If you are experiencing changes in your life, it is a good idea to carry a piece of this stone.
On the other hand, the presence of a red garnet will lessen your worries while helping you focus on the good things.
The red color of this stone will symbolize a strong romantic or love connection. It also carries the energies of desire as well as passion.
This gemstone symbolizes security, permanence, and stability. That is why, if you want to have something lasting and more serious when it comes to your love life, carry this stone always.
Final Thoughts
These are only a few of the many facts about red garnet that you need to know. We hope that you find this article helpful. If you know more facts about this stone, you can share them in the comment section below.
Related Reading
Felicia Eisnnicher
I am the Lead Author and Editor at Gemstagram. I am responsible for creating and editing content about the power of gems and crystals. I also teach about Self-knowing, self-understanding and personal empowerment through numerology. My mission is to help people understand the power of gems and crystals, and how they can use that power to improve their lives. I believe that by understanding ourselves better, we can become more empowered individuals who are able to create our own destiny.
Visit my profile page for more information about me: Felicia Eisnnicher Author Profile
The 3 Best Crystals For Healing Each Of Your Chakras
Get A Free Downloadable Checklist of The 3 Best Crystals For Healing Each Of Your Chakras.
Give Me My Free List