In this article, we will tackle some of the best crystals for healing wounds. So, if you want to heal your wounds check out today's post.
The healing of wounds can be hurried and improved considerably with the best crystals for healing wounds. This applied equally to the simple cuts, abrasions, cracks, and other injuries all the way o the major surgical wounds after and operation.
The generation of the unsightly scar tissues can also be avoided totally or partly, depending on the specific case. Of course, crystal treatment of the larger and deeper injuries, require the application of first aid and the necessary measures, for instance, stitches for the major wounds. Such measures should be performed professionally by a qualified surgeon or doctor.
The most important factor in connection with injures and wounds (after the application of first aid, of course) is to ensure that you are fully aware of the accident or incident. If necessary, you need to repeat the sequence of the event, exactly as it to place, that the same spot and as quickly as possible after the incident, without hurting yourself again, of course.
Sometimes, it is necessary that you repeat the whole thing several times until the pain increases and then dramatically decreases. This is the point at which you need to stop. This is a consciousness-raising exercise that focuses your attention and life energy directly upon the affected spot. Consequently, it can help improve and quicken the healing process.
If the above procedure seems impractical, you can try crystal therapy.  Here are some of the best crystals for healing wounds.
Crystals For Healing Wounds
Obsidian
Obsidian in the form of a tumbled stone and held in your hands or placed close to the wounds can help dissipate the remaining state of shock within the body cells. For operation wounds, obsidian can provide faster healing and closing of the operational wound.
You can rinse your wounds on a diluted obsidian gem essence (10 drops of essence mixed with 100ml of clean water) or gem water of obsidian before applying a bandage or a plaster.
Rhodonite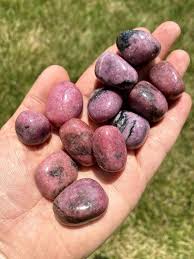 As the stone of gentle healing, rhodonite is the most important crystals to use for healing all kinds of wounds. Thanks to its manganese contents, rhodonite can help in the quick healing of wounds, bites, stings, abrasions, scrapes, and more. Thus, this pinkish crystal is a wonderful stone for cases of wounds that take too long to heal.
Furthermore, its vibrational energies also help prevent the formation of ugly-looking scars. Rhodonite can help improve blood circulation, encouraging the formation of new cells so that no scar forms at all. On an emotional level, rhodonite can have a positive effect on emotional wounds. It encourages forgiveness and letting go of past wounds and hurts.
You can apply this gentle stone by placing a tumbled stone or a slice or section directly on the affected spot. Alternatively, you can wear it as a pendant, necklace, or bracelet. Or you can also take 5 – 9 drops of rhodonite gem essence. Or prepare 1 liter of rhodonite water to be taken in small sips throughout the day.
Mookaite
Mookaite is a potent crystal that can heal wounds alone or after rhodonite. This potent crystal can help support a better supply of tissue nutrients and the cleansing of the open wounds. This way, it can help in preventing infections and complications of wounds.
On an emotional level, Mookaite can stimulate awareness of any emotional causes and therefore encourage psychological healing of wounds.
Like rhodonite, you can apply mookaite by placing a section or slice or a tumbled stone directly on the wound. If that causes discomfort and pain, you can just try wearing it as a pendant, bracelet, or necklace with direct skin contact to facilitate healing.
As a supplement, you can also take 5- 9 drops of gem essence. Or prepare a 1 liter of Mookaite water that you can take in small sips over the course of the day.
Final Thoughts
So, there you have it! Common wounds caused by cuts, stings, abrasions or even emotional wounds can be left alone and heal by itself with time. Application of crystal therapy can help relieve pain and discomfort caused by the wound or even further the healing process.
Take note, however, that crystal therapy is only for supplementary treatment of wounds and should not be a replacement for proven medical treatments in order to prevent infections and complications.
Felicia Eisnnicher
I am the Lead Author and Editor at Gemstagram. I am responsible for creating and editing content about the power of gems and crystals. I also teach about Self-knowing, self-understanding and personal empowerment through numerology. My mission is to help people understand the power of gems and crystals, and how they can use that power to improve their lives. I believe that by understanding ourselves better, we can become more empowered individuals who are able to create our own destiny.
Visit my profile page for more information about me: Felicia Eisnnicher Author Profile
The 3 Best Crystals For Healing Each Of Your Chakras
Get A Free Downloadable Checklist of The 3 Best Crystals For Healing Each Of Your Chakras.
Give Me My Free List