If you are wondering about the healing crystals for breastfeeding, then keep on reading.
The main reason for problems during breastfeeding is typically a lack of quiet and peace and/or not enough rest for the nursing mother.
Such circumstances or conditions prevent a nursing mom from focusing fully upon her feeding baby. In particular, quietness is crucial at the early stages of breastfeeding, when everything still seems new and there's no familiar routine established yet.
Additionally, for the actual process of milk production, quiet and peace and a secure and protective atmosphere shouldn't be underestimated.
Now, once the immediate problems with lactations are overcome, especially the first flow of milk as well as the inflammation of the breast, there can still be further issues in breastfeeding. For instance, there may still be some feeling of pain when the milk first starts flowing.
This is because the milk ducts leading from the individual milk glands to the nipples are still narrow during the initial stages, making it difficult for milk to easily flow. Meanwhile, breast inflammation occurs because bacteria can penetrate the fissure and fine cracks of the nipples.
Also, emotional problems can also arise that further complicate the breastfeeding process. For example, a breast inflammation is more likely to happen when the mother is neglecting herself and spending too much time taking of others. In addition, the actual stains and stress caused by childbirth as well as the enormous changes in life can be equally responsible for breastfeeding problems.
Undue concerns and worries should therefore be avoided by the nursing mom and be replaced by concentration on her wellbeing and her child's.
To help survive the breastfeeding phase, here are some of the best crystals for breastfeeding.
Crystals For Healing Breastfeeding
Chalcedony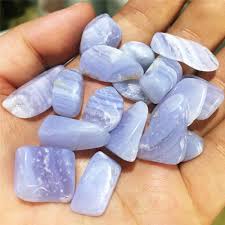 Chalcedony is usually found in gray-blue, white-gray, yellow, and yellow-brown hues. It is translucent to opaque which often features brownish stripes and is usually polished to a high luster.
Chalcedony, especially the pink, light blue, or white one without the stripes, is the best crystal for all kinds of problems during breastfeeding. Its vibrational energies help relieves inflammation of the breast, easing the first flow into the milk ducts and stimulates milk productions.
Not only that, but it also provides the needed inner peace which is best for breastfeeding. Also, it is worth noting that the white Chalcedony is dubbed as the Milk Crystal. This is because it has been applied for centuries to stimulate milk production and easing breastfeeding.
All Chalcedony varieties can be worn as pendants or necklaces, close to the breast to benefit from their powerful vibrational energies.
Sodalite
Dubbed as the Logic Stone, Sodalite is mainly used for creating spiritual connections to the divine. You can also use this if you want to enhance your power of intuition, creativity, and analysis. However, this blue crystal is known to help stimulate the mammary glands, producing more milk.
In addition, if also support the energy of breastfeeding your baby. It helps in balancing the metabolism and overcoming calcium deficiencies while boosting your immune system. Sodalite can be worn as a necklace or pendant in between breasts in order to stimulate milk production.
Moonstone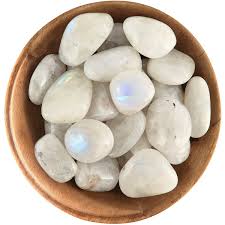 Moonstone holds the mystery and power of the moon itself. Also, it's mainly used for its ability to protect travelers in the night. However, with its soothing feminine energy, moonstone is also a superb stone for easing breastfeeding problems.
It helps in attuning to the normal rhythms of one's body. It helps in balancing the hormones after childbirth and during breastfeeding. Not only that, but this powerful stone also helps in calming down emotions and ease insomnia.
Furthermore, its soothing and calming qualities help mothers find peace and tranquility during the stressful and sleepless phase of breastfeeding. Not only for mothers, but it is also especially calming for fussy newborns.
Moonstone can also be worn as a necklace or pendant near the breast. Or you can just place it near your bedside in order to induce sleep and emotional healing.
Goshenite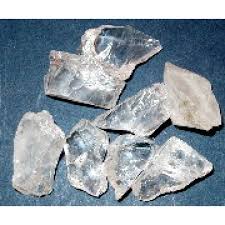 Dubbed as the Mother of Crystals, the colorless Goshenite crystal is the purest of the Beryl's. It carries the feminine energy of the angels and moon and is associated with motherhood.
As a crystal of the soothing moon and mothers, Goshenite is believed to help balance hormones and body fluids. This will then stimulate milk production, ease breast inflammation, and overcome mood swings and emotional stress during breastfeeding.
Final Thoughts
Having a baby is truly a magical time and breastfeeding is a way of bonding with your little one. Breastfeeding issues such as inflamed breast or emotional stress are all normal, considering that it is such a big change in your life. With enough rest, family support, and the best healing crystals for breastfeeding, you can overcome such difficulties and win at motherhood. 
Felicia Eisnnicher
I am the Lead Author and Editor at Gemstagram. I am responsible for creating and editing content about the power of gems and crystals. I also teach about Self-knowing, self-understanding and personal empowerment through numerology. My mission is to help people understand the power of gems and crystals, and how they can use that power to improve their lives. I believe that by understanding ourselves better, we can become more empowered individuals who are able to create our own destiny.
Visit my profile page for more information about me: Felicia Eisnnicher Author Profile
The 3 Best Crystals For Healing Each Of Your Chakras
Get A Free Downloadable Checklist of The 3 Best Crystals For Healing Each Of Your Chakras.
Give Me My Free List