There is a reason why pristine beaches with crystal clear, blue waters are always top vacation destinations. The soothing and peaceful vibes of the ocean that reflect the properties of blue chrysocolla crystal can help cool off fiery and hotheaded emotions. Find out more facts Blue chrysocolla about this powerful calming stone. 
Facts About Blue Chrysocolla Meanings and Properties
Blue chrysocolla comes from the Greek words "chrysos" and "kola" which means "gold" and "glue" respectively. It is in reference to the name of the material that used to solder gold and first used in 315AD.
It is a hydrous copper silicate and through in copper mines in dry areas like in the US southwest areas. Resembling turquoise, blue chrysocolla is sometimes used as an alternative to the said stone. 
Reasons Why You Should Use Blue Chyroscolla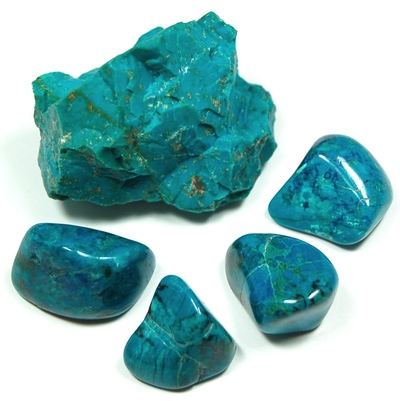 This is a teaching stone, which encourages you to reveal and share your highest wisdom so that other people can benefit from your valuable experiences. Being a Stone for Communication, it is also a valuable tool for those who speak for a living. 
Blue chrysocolla is also a talisman for the musicians. Its charm helps you to learn new musical instruments and have the confidence to play in public. It is a stone of creativity that when carried or worn, it allows you to express your experience and knowledge through acting, crafts, music, painting, and writing. 
This stone also supports those who work as accountants and those in the computer industry, calming emotional stress. For the inventors and designers, it brings inspiration. 
Blue Chyroscolla Benefits That You Need to Know
Here are some of the benefits of the blue chrysocolla for health and healing, for wealth and for love and relationship. 
Facts About Blue Chrysocolla For Health and Healing
The stone's calming energies can help any nervous system disorders including depression, anxiety, hyperkinetic movement and the feeling of guilt. Blue chrysocolla is also a beneficial stone for women who experience severe menstruation pain by alleviating symptoms. In addition, it is conducive to happy and healthy pregnancy by relieving depression and anxieties to first-time mothers. 
Not only that, the stone also aids in the regulation of the adrenals and thyroid. It is, for laryngitis, sore throats, and the overall support of larynx. Blue chrysocolla is also beneficial for blood sugar levels, high blood pressure, diabetes, especially Type II diabetes, problems on the lungs and blood disorders. 
This crystal also helps digestion and treating problems related to hip replacement, hip joints, rheumatism, and arthritis. Its energies help strengthen the muscles and relieving muscle cramps while also healing with scars, burns. Infections and fever. 
Facts About Blue Chrysocolla For Wealth
A Buddhist proverb said that we are shaped by our thoughts. And the blue chrysocolla is a miraculous manifestation stool that can help turn your dreams into reality. 
You can imagine your visualization growing bigger and bigger, feeling and seeing it come to life, showering you with wealth and abundance for all your hard work and patience. 
For Relationship and Love
This stone resonates best with the heart and throat chakras, making it possible for you to offer love from your heart to other people. It facilitates a clearer communication of your inner wisdom, allowing you to freely express how you feel or think of your partner and other people. 
With a healthy chakra, it also increases your ability to give love and have better control of your life. It allows you to be less controlling or feel less controlled by the people you love. You respond positively to mistakes and the stone's vibrations can help you better understand your emotions and needs. 
Final Thoughts
Being the Stone of Communication, blue chrysocolla is the very essence of empowerment, expression, and teaching. Meanwhile, the serenity of its color helps remove all negativities, calming you down and allows you to find the truth and inner wisdom while emphasizing the power of our actions and words to those around us. 

Felicia Eisnnicher
I am the Lead Author and Editor at Gemstagram. I am responsible for creating and editing content about the power of gems and crystals. I also teach about Self-knowing, self-understanding and personal empowerment through numerology. My mission is to help people understand the power of gems and crystals, and how they can use that power to improve their lives. I believe that by understanding ourselves better, we can become more empowered individuals who are able to create our own destiny.
Visit my profile page for more information about me: Felicia Eisnnicher Author Profile
The 3 Best Crystals For Healing Each Of Your Chakras
Get A Free Downloadable Checklist of The 3 Best Crystals For Healing Each Of Your Chakras.
Give Me My Free List