There are many crystals that go with the jade crystal perfectly. As a matter of fact, you can make a number of combinations in order to magnify its energies. By combining it with other crystals, you will be able to direct the energies of Jade on your intensions. If you're curious as to what are the best crystal combinations for jade then you're in the right place.
Read on to learn more about the best crystals that perfectly go with Jade.
Table of Contents
The 3 Best Crystal Combinations for Jade and Their Benefits
Carnelian and Jade Combination Benefits
Carnelian and jade are great crystals to use when it comes to attracting prosperity, good luck, and abundance. This one of the best crystal combinations for jade is beneficial most especially if you want to obtain more success in your business ventures and money dealings.
When combined, these two crystals will aid you to have positive attitudes toward money. They will also make you see yourself earning, working, and most importantly, using money creatively and purposely.
The prosperous energies of carnelian and jade will aid you to look for the best course of action on things that involve personal wealth and your finances. By the way, the carnelian is a crystal that will make you motivated to keep your mind sharp and quick.
This combination, on the other hand, will infuse you with excitement as well as a passion for what you're doing. They will keep you motivated for a longer period of time.
The stones will make you dedicated to your business and at the same time personal success. Also, the mental clarity of Carnelian along with the energy of jade will help you accomplish your goals and get ahead whatever will come your way.
Jasper and Jade Combination Benefits
Jade, when combined with jasper, will help you bring deep-seated problems to light so that you will be able to find the right solutions. Whatever you are hiding inside your heart, this combination will bring it to the surface. They will make you understand that nothing will be solved if you choose not to address the problems.
If you are currently in a relationship, being loyal and honest is extremely important to make it stronger and last longer.
Having a jade and jasper at the same time can help you in achieving a balanced relationship that is filled with support, love, and happiness.
Keep in mind that there is no such thing as a perfect relationship. However, that does not mean that you'll simply surrender the fight.
There are times that when you are stressed out, you tend to make a big deal out of a small thing. The energies of jasper and jade can offer you the tranquility and relaxation that you need most especially when the pressure of life becomes too much.
Both crystals can greatly help you when it comes to achieving a feeling of serenity. They will ground and help you maintain a lid on your emotions. As a result, you will not end up doing something that you'll regret.
With regards to intimacy, this one of the best combinations for jade may help in prolonging your sexual desire and pleasure.
Calcite and Jade Combination Benefits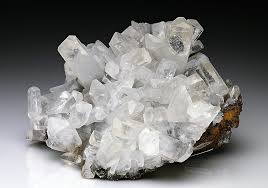 When combined with calcite, you will be able to amplify and increase its energy. This makes it a great combination of many types of healing like distance healing.
Calcite is known to be good when it comes to easing back pain, whereas the jade is effective in general treatment and healing for many conditions.
They will help you accomplish a fast recovery when you're sick and boost physical strength. These crystals, on the other hand, will act as an antiseptic agent and detoxifier. Both jade and calcite will also cleanse your elimination organs like bladder, kidneys, and bowels. They even help in the absorption of calcium and dissolve clarification that may take place on broken bones.
Calcite, in case you didn't know, helps in strengthening your skeletal system, while jade will lessen the discomforts and pains associated with skin problems.
This combination will also help the clotting abilities of the body. It even speeds up the healing of the tissue
The crystals can bring energies of reconciliation in one's life as well. Whether you have been with someone for a couple of years or a week, calcite and jade aid you to save a relationship that is on the rock or a relationship that is already broken.
The 3 Best Crystals For Healing Each Of Your Chakras
Get A Free Downloadable Checklist of The 3 Best Crystals For Healing Each Of Your Chakras.
Give Me My Free List
Final Thoughts
There you have it the three best crystal combinations for jade.
However, if you are trying to pair other crystals with jade make sure they have compatible properties. Or else, you will not be able to make the most out of them.
Most of the time, crystals of the same colors are compatible with energy levels. For example, you can look for the crystals' zodiacs along with their connections. We understand if you find this task a bit complicated. So, to make things much easier, start with the color.
Nevertheless, when you combine crystals that have the same attributes just like the combinations we mentioned above, their energies will surely bring positive changes into your life.
Felicia Eisnnicher
I am the Lead Author and Editor at Gemstagram. I am responsible for creating and editing content about the power of gems and crystals. I also teach about Self-knowing, self-understanding and personal empowerment through numerology. My mission is to help people understand the power of gems and crystals, and how they can use that power to improve their lives. I believe that by understanding ourselves better, we can become more empowered individuals who are able to create our own destiny.
Visit my profile page for more information about me: Felicia Eisnnicher Author Profile
The 3 Best Crystals For Healing Each Of Your Chakras
Get A Free Downloadable Checklist of The 3 Best Crystals For Healing Each Of Your Chakras.
Give Me My Free List