In today's article, we're going to talk about a variety of stomach problems and the best crystals for healing stomach problems.
Symptomatically, most stomach problems are difficult to distinguish from diseases in the pancreas, the gallways, and the gallbladders, the intestines, or the livers. Vomiting and nausea are not automatically a sign that there's something wrong with the stomach.
Professional advice from a qualified doctor should always be sought for clarification of the real cause, particularly when symptoms persist for rather a long time or occur at regular intervals. Therefore, the crystals described later in the entry are only effective, when symptoms such as a sore throat, feeling bloated or full, nervous tension, having no appetite, or simply having the collywobbles because of problems and worries.
Emotional issues are unambiguously linked to the stomach. Just as our stomach is occupied physically with the digestion of absorbed nutrients, it can also be the same way with our emotional and psychological digestion of information and experiences.
Matters that might be described as being emotionally indigestible that can sometimes cause the same problems as items that are physically indigestible.  Remember the sayings: "gut feeling", "butterflies in the stomach", or "that makes me sick".
So, as ever, emotional, and physical nutrition are interconnected. Healthy and organic food in a varied diet will provide different results than processed or fast food. Furthermore, why not consider starting out with the short meditation in order to make the day different, instead of consuming breakfast with the news of the day, with its bulletin of natural and human disasters.
Stomach problems should always remind us of the fact that we need to review our nutrition from a holistic perspective. As a result, crystals can help in relieving stomach problems but also helps us find it easier to deal with things emotionally and making us ready and able to digest the big stuff.
Here are some of the best crystals for healing stomach problems.
Crystals For Healing Stomach Problems
Agate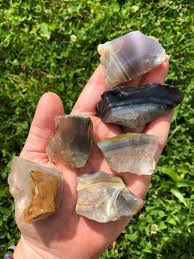 Agate which contains within its crystalline structure a "stomach signature" helps with all types of emotional and physical stomach problems. IT can help strengthen the mucus membranes of the stomach and relieving inflammation.
Not only that, but this crystal also stimulates the stomach and helps with the feelings of bloatedness. It has an emotionally stabilizing effect so that even uncomfortable matters don't lie too heavily there.
You simply need to place a tumbled agate stone on your stomach to facilitate healing. Alternatively, you can also wear it as a pendant or necklace with direct skin contact. You can also take 5 – 7 drops of gem essence for 3 – 5 times a day. Or take small sips of 100 – 200 ml agate water throughout the day.
Amber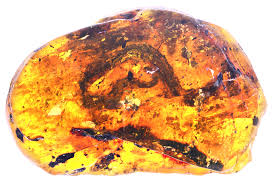 Amber is another potent stone that can relieve stomach problems and nausea due to inflammation such as gastritis or stomach ulcers.
Furthermore, this crystal can help strengthen the mucus membrane of the stomach. However, it is much more likely to help with the lack of appetite or stomach issues because of nerves as emotionally, amber can improve cheerfulness, happiness, and freedom from care.
You can wear amber as a necklace or pendant. Or place a tumbled amber stone directly on your stomach to benefit from its healing energies. Alternatively, you can also take 5 – 7 drops of amber essence for 3 – 5 times a day. You can also prepare a 100 – 200ml amber water that one can take in small sips throughout the day.
Diaspor + Magnesite
Diaspor can help quickly with the cases of sore throat and too much acid in your stomach. Also, it can relieve the type of nausea, that usually occurs after rushed or heavy eating. Emotionally, it can have a calming effect on your feelings of fear and nervousness and of guilt without any apparent cause.
Magnesite can also help with sore throats, stomach cramps, or excessive stomach acid. Furthermore, this crystal can help in relieving hiccups and is calming in cases of anxiety, nervousness, and irritability.
You can place a raw Diaspor crystal and a tumbled section or stone slice of magnesite on your stomach. Or you can also wear both crystals as a pendant, bracelet, or necklace. Alternatively, you can take 5 – 7 drops of each essence for 3 – 5 times a day. Or prepare a 100 – 200ml gem water of each crystal that you can take in small sips throughout the day.
Final Thoughts
Healing crystals can be a great holistic tool for relieving stomach problems. However,  it makes little sense to use the following crystals if there's no accompanying willingness or readiness to change your lifestyle and where the stomach is concerned specifically, changing dietary habits.
Thus, you need to make the necessary changes in your lifestyle (emotionally and physically) and dietary habits, while supplementing with the best crystals for stomach problems in order to get satisfying results.
In addition, for the more severe cases of stomach problems or when the cause is unknown, it is best that you consult with a qualified doctor. So that, you'll obtain correct diagnosis and treatment.
Felicia Eisnnicher
I am the Lead Author and Editor at Gemstagram. I am responsible for creating and editing content about the power of gems and crystals. I also teach about Self-knowing, self-understanding and personal empowerment through numerology. My mission is to help people understand the power of gems and crystals, and how they can use that power to improve their lives. I believe that by understanding ourselves better, we can become more empowered individuals who are able to create our own destiny.
Visit my profile page for more information about me: Felicia Eisnnicher Author Profile
The 3 Best Crystals For Healing Each Of Your Chakras
Get A Free Downloadable Checklist of The 3 Best Crystals For Healing Each Of Your Chakras.
Give Me My Free List