When it comes to magical workings, light amethyst is one of the most popular stones to have. It possesses powers that other stones don't and its energies are very unique. If you're not familiar with this stone, then this is for you. In this article, we will reveal some facts about light amethyst including its meanings, properties, and benefits.
Meanings and Properties of Light Amethyst
Light amethyst is one of the many varieties of quartz that consist of iron as well as traces of minerals in its structure.
One of the most important facts about light amethyst that you need to know is that it is a calming and meditative gemstone that works in the physical, emotional, and spiritual planes in order to promote peace, calm, and balance. Actually, it can be also utilized to remove impatience.
In the ancient period, light amethyst is one of the most highly-priced stones and take note it continues to be valued by a lot of people these days.
Reasons Why You Should Use Light Amethyst
There are lots of reasons why you should consider using this variety of amethyst. First and foremost, light amethyst when paired with Amazonite is one of the rare stones with the specific purpose of enhancing cerebral and intellectual thoughts.
Furthermore, this stone can get rid of the masks that, otherwise cloud positive judgment as well as straightforward thoughts.
Another reason to use this is that it aids you to think critically and thoughtfully about the current situation you are facing that may lead to greater success. If find yourself in a situation where you are not certain how to take the right actions due to your emotions, light amethyst can be a great help. Always keep in mind that emotions are necessary and valid parts of your experience as a human and they shouldn't be discounted.
The 3 Best Crystals For Healing Each Of Your Chakras
Get A Free Downloadable Checklist of The 3 Best Crystals For Healing Each Of Your Chakras.
Give Me My Free List
Light Amethyst Benefits That You Need to Know
Wondering what this stone has to offer? Check out some of the most important benefits of light amethyst below.
For Health and Healing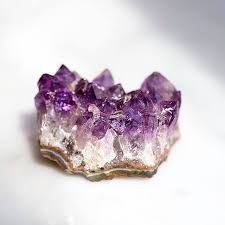 Light amethyst is one of the best stones that help in improving physical vitality after pharmaceutical, chemotherapy, and radiation treatments. It will also strengthen the heart, adrenal glands, and reproductive system.
Light amethyst, on the other hand, aids in the treatment of illnesses related to the spleen, pancreas, and lungs. The stone stimulates fertility too.
Moreover, it helps in boosting the immune system and achieving a fast recovery from a chronic disease.
For Wealth
When you are serious about expanding your business, building personal wealth, or sharing your wealth with the persons you love, light amethyst is a great stone to have. One of the best things about it is that it nurtures dedicated work, creative output, as well as excellent ideas. This makes it one of the best stones that you can place on your office desk or work table.
Other than that, the stone invites abundance in your monetary life and synchronization in your professional relationship.
For Relationship and Love
When it comes to relationships and love, light amethyst can also offer a lot of benefits. For example, its energies can help you in understanding your own desires, needs, and wants in your relationship. Not only that, it will kindle your heart and open up yourself for more love. Actually, it'll break down the walls no matter how tall they are and let go of all of your worries and fears concerning love.
The stone may also help in eliminating weariness in a relationship. With dedication and hard work, you can restore what was vanished and renew the passions that have been missing.
Final Thoughts
Considering all the facts about light amethyst we mentioned above, it is indeed a great stone. It is a beneficial stone in any kind of situation in which you are facing circumstances routinely. Remember that, the deeper you research into the teachings of this stone, the more inspiring it seems to be.
Felicia Eisnnicher
I am the Lead Author and Editor at Gemstagram. I am responsible for creating and editing content about the power of gems and crystals. I also teach about Self-knowing, self-understanding and personal empowerment through numerology. My mission is to help people understand the power of gems and crystals, and how they can use that power to improve their lives. I believe that by understanding ourselves better, we can become more empowered individuals who are able to create our own destiny.
Visit my profile page for more information about me: Felicia Eisnnicher Author Profile
The 3 Best Crystals For Healing Each Of Your Chakras
Get A Free Downloadable Checklist of The 3 Best Crystals For Healing Each Of Your Chakras.
Give Me My Free List