Because of the energy of love rhodochrosite offers, it is considered one of the most popular stones today. The power of rhodochrosite can't be underestimated. As a matter of fact, it is not called the stone of the compassionate heart for nothing.
Many people find this stone beneficial because they are having a hard time remaining compassionate. What's more, it will also help draw the compassion of other people from time to time.
Table of Contents
The Power of the Rhodochrosite: Compassionate Heart
Chakra Correspondence
Since it is known as the stone of the compassionate heart, Rhodochrosite is associated with the thymus (higher heart), heart, and heart seed chakras. But aside from that, you can also use this stone for your base, soma, and solar plexus chakras.
The 3 Best Crystals For Healing Each Of Your Chakras
Get A Free Downloadable Checklist of The 3 Best Crystals For Healing Each Of Your Chakras.
Give Me My Free List
Physiological Correspondence
Rhodochrosite will help in getting rid of anything that is irritating the eyes and lungs. It can also help in correcting thyroid imbalance. This stone is also beneficial for the urogenital, circulatory, and metabolic systems.
Vibration
Rhodochrosite has an earthy to high vibration. However, the level of vibration will depend on whether the stone is gem or opaque.
Legendary Power of Rhodochrosite
Rhodochrosite is a stone that signifies selfless love. It will allow you to determine the divine in yourself.
Rhodochrosite was made when white manganese liquified with carbonate seeped to cavities, providing the stone its swirls of white, pink, and red.
On the other hand, Rhodochrosite is holy to the Incas who dubbed it Inca Rose and said it was the hardened blood of their ancestral queens and kings.
In a cave underneath the Andes, the heart of Mother Earth only beats once every two centuries. It's a Rhodochrosite heart-shaped rock that has been holy to local individuals for millennia.
According to the Alfonso lapidary, it is an astringent stone that has drying as well as cleansing properties known as the Almartac.
In fact, Rhodochrosite can calm itching and when mixed with wax it can clear away putrid flesh, reduce pain, and heal ulcers. There is also an indication that Rhodochrosite was utilized in alchemy, however, it is not included in the book.
Nevertheless, a Sweet Home Mine in Alma, Colorado is producing rare and at the same time exceedingly attractive red Rhodochrosite, originate nowhere else on Earth.
Healing Power of Rhodochrosite
Rhodochrosite comes with manganese that is an essential psychological component of the body that has a metabolic function and potent antioxidant.
Aside from proper bone development manganese is also important for the assimilation of minerals and repairing tissue. But it is worth mentioning that manganese can be very dangerous in big quantities. In fact, this the main reason why this has stone has such deep healing properties since it is impossible to offer too potent an energetic dosage when utilizing Rhodochrosite as it carries a balance.
Traditionally, this stone can help the circulatory system and the heart. It will also get rid of the irritants from the lungs.
When placed at the base of your skull, Rhodochrosite dilates the blood vessels, stabilizes blood pressure, and relieves migraines.
Gem Rhodochrosite, on the other hand, has been utilized to heal psychosomatic causes of various diseases like cancer.
The energies of this stone will help with breathing issues and relieve symptoms of asthma. It can also help with constipation, digestive problems, and abdominal pains. If you are suffering from allergies, skin disorders, or rashes, you will Rhodochrosite beneficial as well.
By the way, if you're experiencing withdrawal symptoms this stone can also help you.
Transformational Power of Rhodochrosite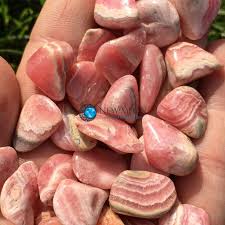 Rhodochrosite will open the compassionate heart and at the same time fill it with love. Rhodochrosite most especially the gem comes with a higher vibration that will open your heart seed chakra for a distillation with divine love.
This stone is ideal for previous-life healing. You can place it over your heart in order to disentangle the connections of outgrown relationships gently. When placed on your soma chakra, Rhodochrosite will facilitate reading the Akashic Record to determine the purpose of your current incarnation.
How to Harness the Powers of Rhodochrosite
If you want to attract a twin flame, a person whom you can share mutual support and unconditional love, you will need to program your Rhodochrosite.
To boost its powers, you can also pair with other stones like pink tourmaline, aventurine, prehnite, malachite, and red garnet. As a matter of fact, these combinations can encourage more compassion in you.
Another great way to harness its powers is to carry it or wear it on your body. Doing so will allow you to feel light and cheerful. It will also offer you more energy and make you feel dynamic and active.
Conclusion
While it is often associated with love, sometimes Rhodochrosite is more crucial for its metaphysical energy of balance.
The balancing energies of Rhodochrosite actually make it an excellent love stone. The energies of this stone will bring more love to whoever uses or wears it. In addition to that, they will help you in letting of old pains and hurts. It will also help you in resolving inner conflicts and in regaining the balance you've lost along the way,
Rhodochrosite has a lot of powerful attributes that can greatly benefit your body in an emotional, spiritual, physical, and mental way.
Last but not least, Rhodochrosite encourages a wonderful kind of love and a positive life.
Related Reading
Felicia Eisnnicher
I am the Lead Author and Editor at Gemstagram. I am responsible for creating and editing content about the power of gems and crystals. I also teach about Self-knowing, self-understanding and personal empowerment through numerology. My mission is to help people understand the power of gems and crystals, and how they can use that power to improve their lives. I believe that by understanding ourselves better, we can become more empowered individuals who are able to create our own destiny.
Visit my profile page for more information about me: Felicia Eisnnicher Author Profile
The 3 Best Crystals For Healing Each Of Your Chakras
Get A Free Downloadable Checklist of The 3 Best Crystals For Healing Each Of Your Chakras.
Give Me My Free List